The revolutionary new, FDA approved filler, designed specifically to sculpt, define and lift the jawline.
Move over heavy contour and makeup tricks. The FDA just approved Juvederm® Volux™ XC, the hyaluronic acid (HA) dermal filler designed to shape, and define chins and jawlines. 
For decades, the only way to tighten jowls was with a facelift or neck lift. And for some, this will still be the case. But now, with Volux XC maybe you can get the jaw-defining and lifting results you want—without tedious downtime or painful surgery.
You can see why we're excited, right? Keep reading to find out why this new treatment is  1,000% worth the hype.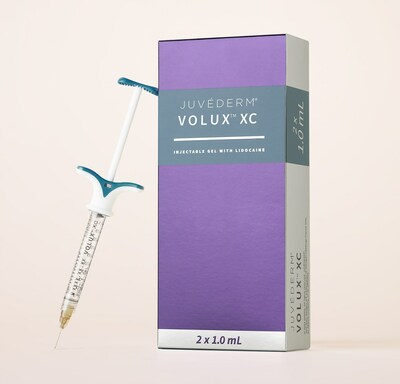 What makes Volux XC so unique?
Volux XC is the firmest HA filler available in the US, which makes it the ultimate solution for sculpting chins and sharpening jawlines.


Because it's so thiccc, Volux XC can do more with less. In fact, most people will see noticeable results with even one syringe.



When administered by skilled practitioners (like us…heyyy) Volux XC looks perfectly natural and gorgeously defined—whether you're on camera or strutting your stuff IRL.
What is Volux XC made of?
Volux XC is a dermal filler made of hyaluronic acid. It's similar to other Juvéderm fillers like Voluma, but Volux is different because it offers more structure and lift to create a more defined chin and stunning jawline.
How does Volux XC work?
Hyaluronic acid filler is injected along the jawline to provide structural support, add contour, and give a naturally lifted look to the lower area of the face.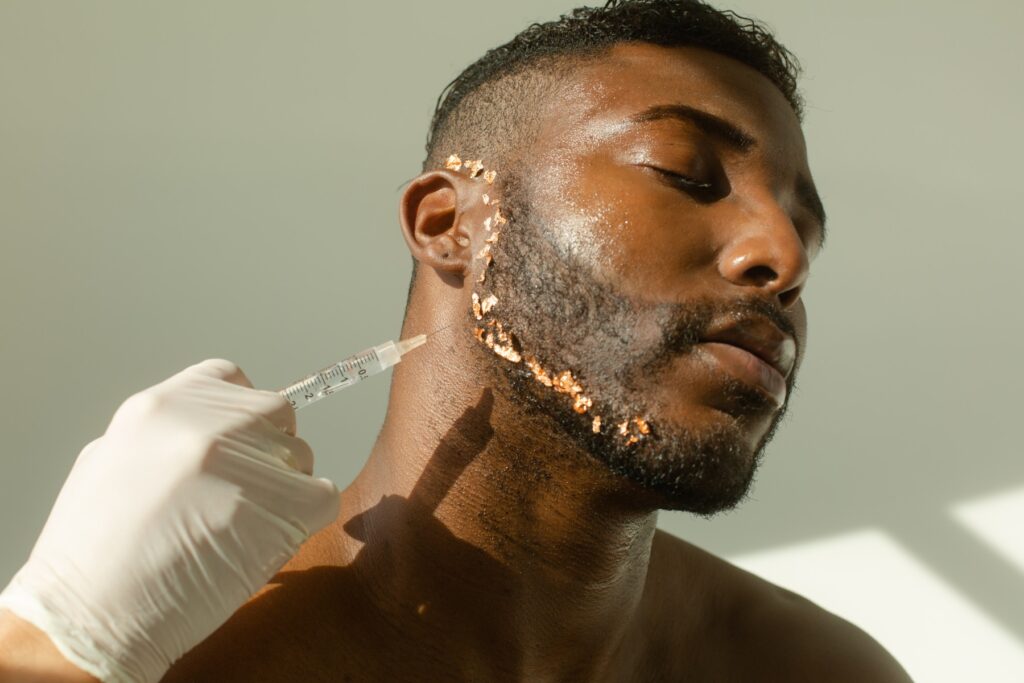 When Will Volux XC be available?
We can't wait to put The Luxe in Volux! It's actually JUST BECOME AVAILABLE! Look out for our monthly specials…there may be a little something Vo-Luxurious available to those wanting to snatch that jawline.
Is Volux XC a long-lasting dermal filler?
Voluma XC has some impressive longevity. In fact, it's been clinically proven to last up to 24 months, but some patients see results that last even longer. As with any dermal filler longevity, we always recommend coming in for maintenance before the filler has completely dissolved. 
So say you did 3 syringes of Volux for your initial jawline appointment. In one year, you may need to maintain with 1-2 syringes. For some dermal fillers, the longevity seems to compound, so we'll see with Volux! Fingers (and toes) crossed…
How much does Volux XC cost?
You can find an updated price list HERE. 
At The Luxe Room, we like to base our pricing on the area treated rather than the brand of filler we use to ensure you get the best results possible and the biggest bang for your buck.
Does Volux XC hurt? And is there pain afterwards?
Volux XC is formulated with a numbing agent called lidocaine to help alleviate any discomfort. We also apply a topical numbing gel (the good stuff!) prior to your treatment to make sure your appointment is as comfy and pain-free as possible. 
Of course, everyone perceives pain differently, but most people who come in for dermal injections say their treatment was a lot more comfortable than they thought it would be!
After your treatment, you'll be pretty comfortable. A few hours after your treatment, you'll start to feel a bit of soreness as all of the initial numbing has worn off. Typically, patients only need a Tylenol and the odd icepack for this discomfort. This is generally most noticeable for the first 24 hours, then slowly dissipates over the following few days.
What happens during my appointment and how long does it take to inject Volux XC?
If you haven't visited one of The Luxe Room locations before (currently in Boulder & Denver, Colorado), make sure you arrive 5-10 minutes prior to your scheduled appointment to fill out your brief, new patient paperwork.
Once your appointment begins, we'll start by discussing your goals, discussing the treatment and what to expect that day and afterwards, aftercare instructions for Volux XC, and looking through any photos you've brought for inspiration if relevant. Once we come up with a plan of action, we'll apply a strong numbing cream to your jawline or wherever we're planning to inject. Then, we'll have you relax in one of our beautiful treatment rooms for roughly 20 minutes while the numbing sets in.
Once you're nice and numb, we'll start the treatment. Wohoo! The actual dermal filler procedure only takes about 20 minutes. After the injections are completed, we'll do after photos and run through any aftercare instructions so that you feel well-informed. If a follow-up appointment is recommended, we'll get that booked before you leave.
While going over detailed aftercare instructions with you (don't worry, we send them by email too PRIOR to your appointment) you'll receive an ice pack, if needed, to help alleviate post-treatment swelling and that's it! The whole experience should last about a total 45-60 minutes.
What is the downtime & aftercare like for Volux XC?
Is there downtime? Generally speaking, not really (visually, anyway)! *fistpump*
As Volux is injected in the jawline and chin, there typically isn't too much swelling (like there is for the lips, for instance). You may have a bit of swelling, but it generally isn't extreme and calms down for the most part within 48 hours. 
There is a possibility of bruising, but large bruises are rare (but CAN happen!). You can wear concealer to cover any spots after 24 hours.
As far as sensation, rather than visual downtime, there can certainly be a bit of soreness to the treated area for a week or so. 
Aftercare instructions will be given to you at your appointment, but here are the main aftercare takeaway points to keep you on the right track:
Don't touch the treated area for at least 6 hours after your treatment

You can wash your face that night, but don't apply any active or strong products like retinol/vitamin A, BHA/AHA (like salicylic or glycolic acids), etc)

No makeup to the treated area for 24 hours

No working out or exercise for 24 hours

Don't massage the treated area at all unless advised by your TLR injector

Avoid ibuprofen, fish oil, or other blood thinners for at least 48 hours after your treatment to avoid increased bruising.
How do I prep for my Volux XC filler appointment?
Great question! Here are the most important prep tips:
You CANNOT be treated with any injectables if you are pregnant, or breastfeeding.

If you've had any other injectable filler in the area to be treated in the last 3-6 months, please notify us before-hand

To minimize bruising, please avoid alcohol for 3-5 days before your treatment

Also minimize bruising by avoiding any non-rx or unnecessary blood thinning medications (aspirin, advil, motrin, all other NSAIDs, fish oil, vitamin E, and some others)

You can take over-the-counter Arnica pellets to help prevent bruising (if ok'd by your doctor)

You CANNOT be treated if you have any active or healing cold sores on the face. If you're prone to cold sores, please ask your doctor for a medication to prevent them.
Can I get Volux XC if I've been injected with a different dermal filler previously?
If you've had another Juvederm® dermal filler, the answer is yes. But If you've had another brand of filler like Restylane™, an individual consultation will determine if and when you can receive Volux XC, but that's rarely an issue as long as the filler was more than one month prior.
If you've never had filler that that particular area, but have elsewhere, there is generally NO issue at all.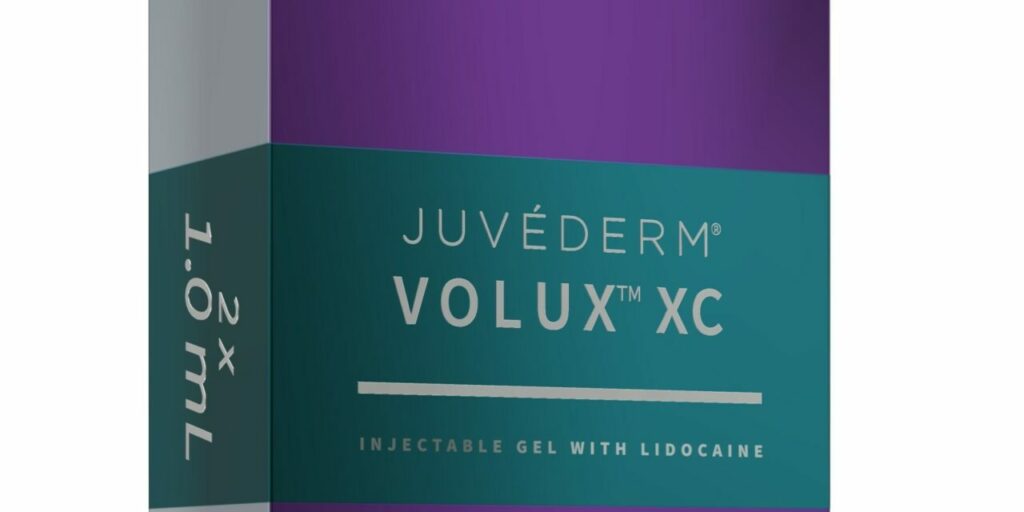 How do I book a dermal filler appointment for Volux XC?
Once you come in for an appointment, we'll discuss different dermal filler options, including all Restylane and Juvederm dermal fillers. The best filler choice will be determined by a Luxe Room medical professional during your personalized consultation. Even though Volux XC will likely be a common filler choice for chin and jawline improvement, your specific facial concerns and structure may require a different type of dermal filler.
Get your selfie stick ready and mark your calendar for 2023 to turn the defined, sculpted jawline you've been dreaming of into a beautiful reality. 
Like all cosmetic procedures, dermal fillers pose a few risks including bruising, swelling, and pain at the injection site, cold sore reactivation, discoloration or tenderness, migration, asymmetry or in very rare cases, vessel occlusion. 
Receiving your dermal filler from a qualified injector (we have RN's, NP's, & PA's at TLR), and following pre- and post-treatment instructions will help you minimize risks!  
Can you get dermal fillers while pregnant or breastfeeding?
No. Most places, including us, won't risk treating pregnant or breastfeeding women. We put your health and well-being first, and we just don't know if lip filler has the potential to harm soon-to-be moms or their babies.
Let's Chat…
No matter what your concern or want is (within reason!), We'd love to help you and work out a plan to help you feel better about it. Book in for a complimentary consultation and let's chat!