Is Sculptra The Secret To Younger Looking Skin?
Move over hyaluronic acid fillers! Sculptra is back on the scene and ready to change the anti-aging game.

With a new list of FDA-approved uses, this collagen-building miracle worker from Galderma is quickly becoming THE treatment for anyone looking to upgrade their complexion, smooth lines and wrinkles or restore youthful volume to their cheeks and face.

Sound like something you might be into?
Read on to learn more about Sculptra and find out why this innovative injectable just might be your new Luxe Room go-to.
What is Sculptra?
Sculptra is an innovative and FDA-approved biostimulatory filler (like Radiesse and Bellafill) that triggers YOUR natural collagen production. 
What sets Sculptra apart from HA-based dermal fillers is that it is made to address the underlying cause of aging, instead of simply treating the symptoms—which means that you may get more natural-looking results that last 3–5 times longer than traditional fillers and toxins like Botox, Dysport, Xeomin, Jeauveu, Daxi, Juvederm or Restylane.
What is Sculptra made of and how does it work?
Sculptra is made of biocompatible, biodegradable poly-L-lactic acid (PLLA), a compound that works with your body to stimulate collagen production and gradually create more over time. 
Unlike its hyaluronic acid-based counterparts, Sculptra gives your body the tools it needs to combat the effects of aging over time. Once injected, Sculptra kickstarts the synthesis process to help restore skin's inner structure (mainly via fibroblasts) and increase natural collagen production over time to improve skin texture, correct deep lines and wrinkles and increase facial volume over time.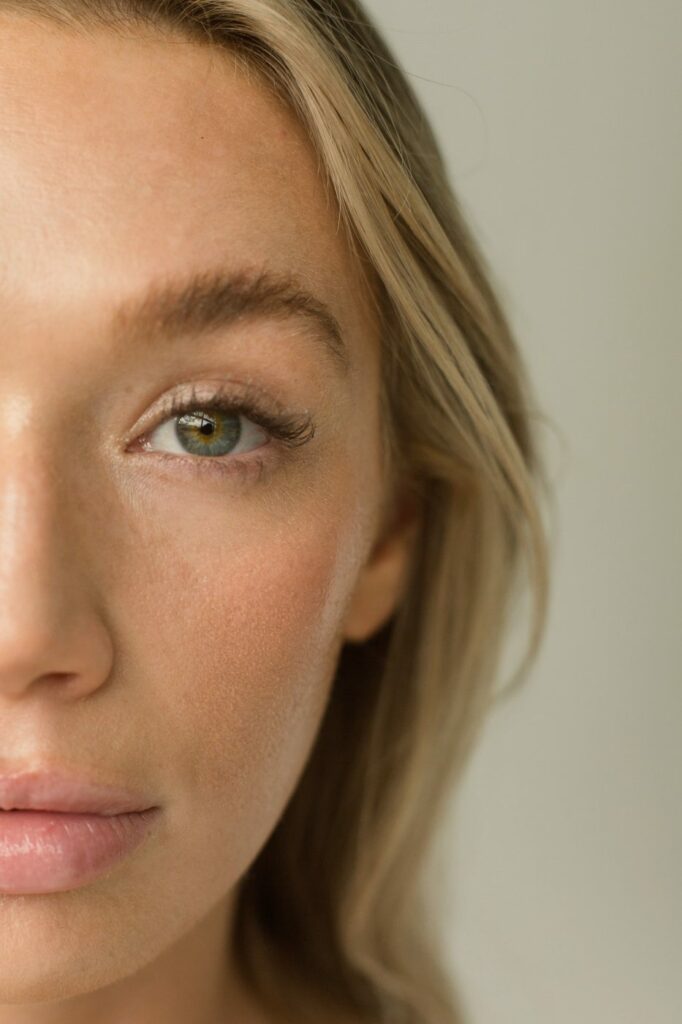 Are you a good candidate for Sculptra?
Whether you're looking to add youthful volume to your face, want to treat deep lines and facial wrinkles, or just want a softer, dewy complexion—Sculptra is probably a great fit for you. The long-lasting, natural-looking results look gorgeous on everyone—no matter if they're 24 or 82.  
And even though we love the way Sculptra looks on basically anyone, we highly recommend it to anyone who wants to restore volume that's been lost due to age or weight loss, add fullness to a thin face, or revitalize and upgrade their appearance, WITHOUT looking like they've had work done.
What areas can you treat with Sculptra?
The FDA's newly expanded approval of Sculptra for use on fine lines and wrinkles allows for more versatility and a wider and range of treatments. Some include: 
Adding volume and fullness to thin faces and hollow cheeks

Improving facial folds, wrinkles and lines  

Correcting deep folds and lines on the face and neck (goodbye, smile lines!)

Slowly building volume in the temple, cheeks, chin and jawline areas 

Revitalizing overall skin texture and tone 

Maximizing the effects of

skincare treatments

like

microneedling

, microneedling RF, and laser treatments like

Clear and Brilliant

 

Likely complementing the effects of other injectable treatments like

Restylane Kysse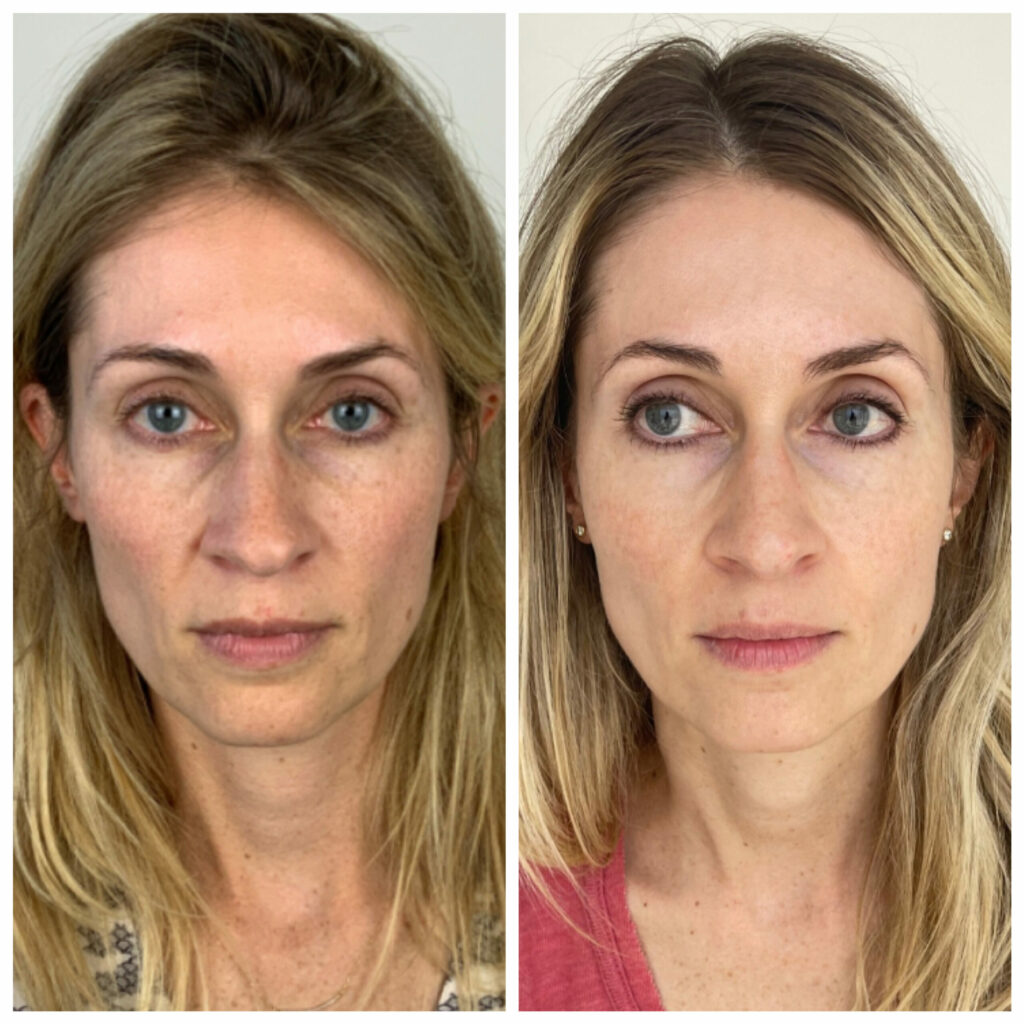 How many Sculptra treatments will you need?
This varies based on age, goals and individual needs, but for best results, we typically recommend 2-4 Sculptra treatments, spaced at least 4 weeks apart.
How long does Sculptra last?
In the world of dermal fillers, Sculptra has some serious staying power. Most of our clients see results last for about 25 months, but some see skin-reviving benefits that last up to three years!  
Of course, results vary based on a number of factors including age, metabolism and how fast your body breaks down injectables, but you can bet on Sculptra lasting longer than other injectables and skincare treatments.
How much does Sculptra cost?
At the The Luxe Room, a vial of Sculptra costs $800 (as of the time of this blog's publishing date – see here for the most up-to-date pricing). Buying 2 saves you $100 and you'll get even more bang for your buck when you buy a package of 4 (20% off)  
Make sure to check out our monthly specials for even more ways to save, and get a detailed look at The Luxe Room treatment prices here.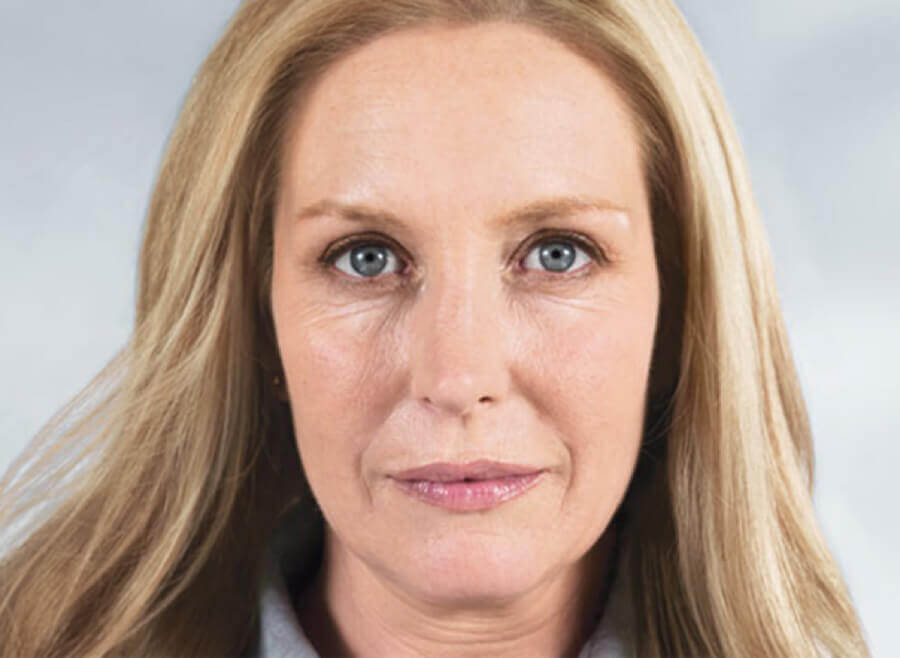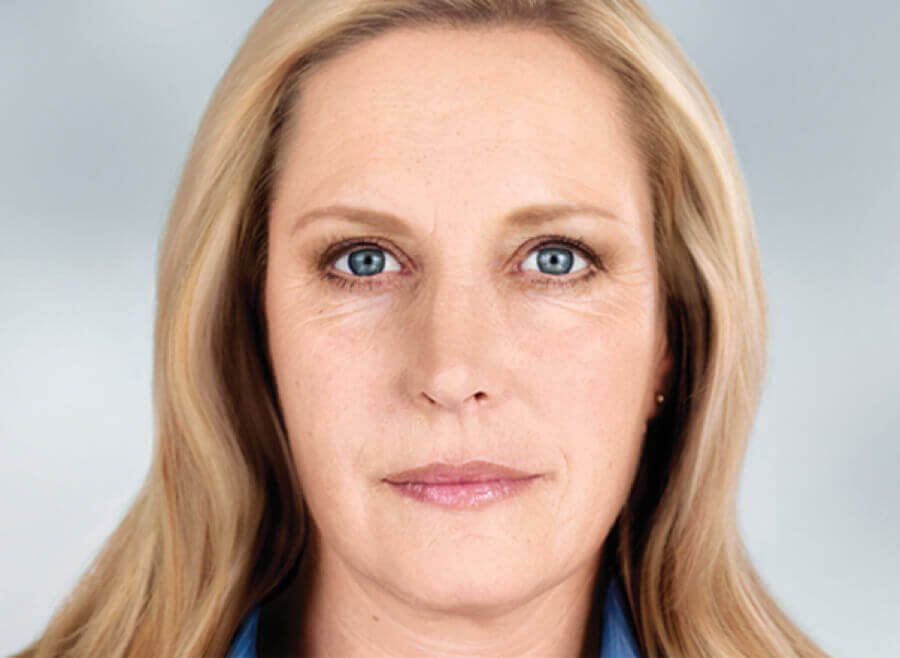 How do I prepare for a Sculptra procedure?
For gorgeous results with minimal ouch, follow these helpful pre-session tips.
2 weeks before Sculptra:
We recommend not getting Sculptra if you've had dental work or any vaccines 2 weeks before or after your planned procedure. If this timeline doesn't work, call us to reschedule your appointment!

You'll likely have mild to moderate swelling and redness for 48-72 hours after, and light bruising for 2-5 days on average, so make sure to plot out your post-treatments plans accordingly. 
1 week before Sculptra:
Avoid taking any kind of blood thinning over-the-counter medication including aspirin, Motrin, ibuprofen, fish oil, Aleve, etc (unless instructed by a medical professional, of course).

Skip the St. John's Wort, Gingko biloba, primrose oil, garlic, ginseng, alcohol, and Vitamin E

These steps will help you avoid excessive bruising!
2 days before Sculptra:
Stop using topical skincare products including Tretinoin (Retin-A), Retinol, Retinoids and Glycolic Acid (basically any "anti-aging" products) (If you've done this, just reach out to your practitioner to make sure you're still good to go!)

Consider taking Arnica. This isn't mandatory, but it may

 

help reduce bruising.

If you haven't done these steps, it's NBD—but they are helpful recommendations!
24 hours before Sculptra:
Again, keep boozy beverages out of the mix for at least 24 hours prior to your appointment. This will help prevent extra bruising and bleeding and keep your body healthy to reap the rewards of Sculptra.
The day of your treatment:
Show up to your appointment with a clean, makeup-free face.
What does downtime and recovery look like?
Downtime for Sculptra is pretty minimal and lowkey. You're likely to be a bit puffy and sore for 2-3 days, but that should be about it.
Who trains the TL R team?
In November 2022, every single injector of the TLR team (Denver & Boulder) was trained privately by Dr David Saadat. One of our injectors was also trained by Dr Shino Bay (see video below). You can bet, you're in (super) safe hands when being treated by our experienced and extensively trained injectors!
Will I bruise from Sculptra?
With all injectable treatments, bruising is a risk. If a needle is used to inject Sculptra, you can plan on it, but if a cannula is used, bruising is much less likely.
Does Sculptra hurt?
To alleviate any discomfort, Sculptra injections contain lidocaine, a strong numbing agent. We also apply a seriously strong numbing gel (the good stuff) to your skin prior to your treatment to make sure the entire experience is as pain-free and comfy as possible. 
And even though everyone experiences pain differently, most people tell us their injections were so much better than they imagined them to be.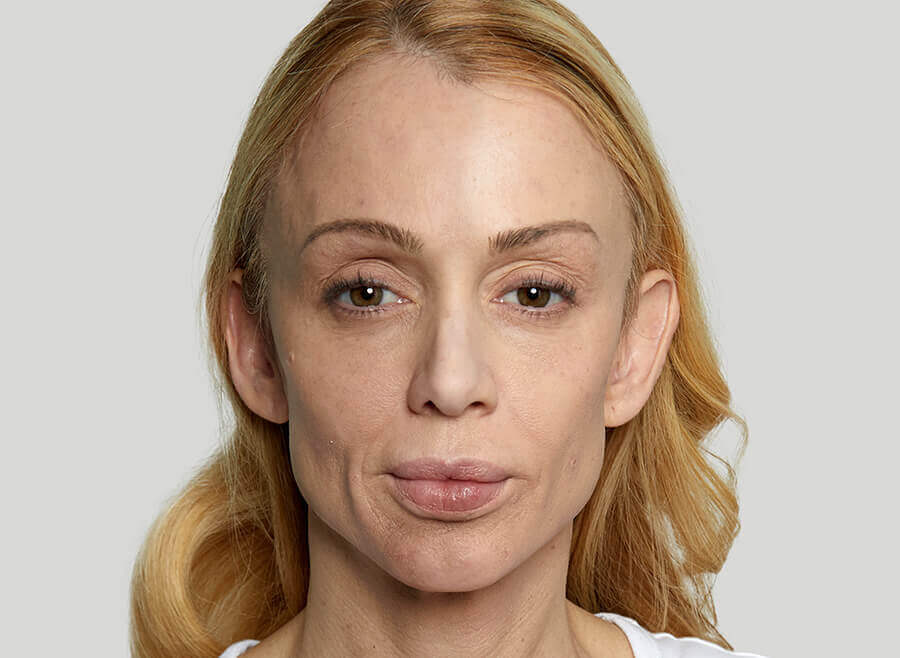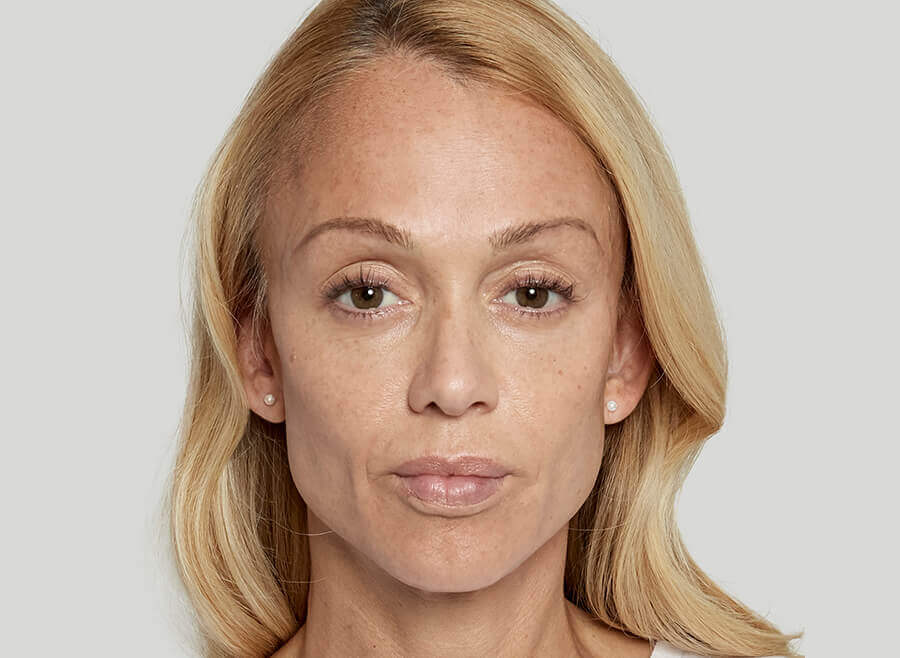 What are the risks of Sculptra?
Like injectable fillers, Sculptra poses a few risks including bruising, swelling, and pain at the injection site, tenderness and redness at the injection site. Less common side effects may include discoloration and lumps under the skin that become noticeable when pressing on the area. 
Receiving Sculptra from a qualified injector (we have RN's, NP's, & PA's here at our TLR locations) and following our pre- and post-treatment instructions will help you maximize results and minimize risks! 
Can you get Sculptra while pregnant or breastfeeding?
There are no studies showing safety or efficacy while pregnant or breastfeeding, so it's best to do this (and most injectable treatments) before or after your babe and breastfeeding!
What questions should I ask before getting Sculptra?
The most important thing to ask your provider is if they are an experienced, licensed, & trained Nurse, PA, MD, or NP injector. Another important factor: has your injector received training from a qualified Sculptra trainer. The difference between achieving stunning results and dealing with a disaster relies on receiving your Sculptra treatments from someone who has the expertise to give you the results you want, safely. 
Have more questions?
–Book a complimentary in-person consultation
Planning on booking anyway or want treatment done the same day?
–Book the treatment and a consultation is still done on the treatment day to ensure you're a good candidate for Sculptra (very rarely are people NOT candidates!)
 See below for some great questions you may want to ask your provider:
What kind of results can I expect to see?

Am I too young/mature for Sculptra?

What issues can I address with Sculptra?

What medications can I take while I recover?

Would another filler or treatment give me better results?

What potential risks and complications do I need to know about?

How many Sculptra treatments might I need? 

What precautions do I need to take after my treatment?
Ready to take the leap? Call us at 303.222.9546 or click here to set up a Sculptra consultation and appointment at The Luxe Room Denver or Boulder clinics.